SALISBURY — Salisbury is known for its history. And while many of us are cooped up due to the COVID-19 outbreak, the Historic Salisbury Foundation created a scavenger hunt.
The scavenger hunt, which has nine prompts, takes participants around downtown Salisbury to learn about the city's hundreds of years of history.
Sada Stewart, Historic Salisbury Foundation's director, said the scavenger hunt has two main purposes: to have fun and celebrate historic Salisbury.
On Friday afternoon, I decided to venture outside with a couple of friends to scavenge downtown Salisbury. I've lived here for about a year and a half. My friends, Emalee Young and Emily Rider, grew up in Rowan County.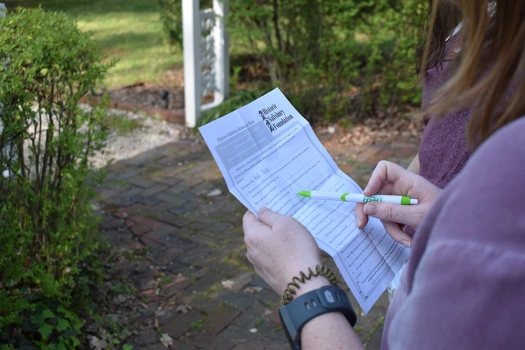 I printed out a couple copies of the scavenger hunt — copies are also available at 215 Depot Street. I joined up with my friends. We started with the first prompt: "Start the hunt at a house that means a lot to Historic Salisbury Foundation — we bought it in 1972. The house turns 200 years old this year! Bonus: Who is the house named after, and what was his profession?"
We made our way there while also practicing social distancing.
The prompts took us to S. Jackson, W. Fisher, Main, Kerr and Depot streets, testing our knowledge of Salisbury and its history.
Stewart said a scavenger hunt was the best way to occupy kids who are learning at home, appeal to parents who want to get outside while promoting current health guidelines.
"It was also the best idea I came up with that also allowed me to promote a large number of our nonprofits, businesses, museums, etc. in downtown Salisbury," she said. "Even if I was not able to specifically include a place, I wanted to encourage participants to walk around our downtown."
When creating the Historic Salisbury Foundation scavenger hunt, Stewart walked around downtown Salisbury and picked out landmark locations that exemplify the city's history.
The scavenger hunt was a way for Historic Salisbury Foundation to support the Salisbury community during the pandemic. Stewart said the foundation is not necessarily able to offer the technical assistance to businesses the way the Rowan County Chamber of Commerce, Rowan Economic Development Commission and the Tourism Authority, but they wanted to promote their downtown partners and encourage people to get fresh air in a safe manner.
"Getting our friends and neighbors to get outside, safely, and have them walk around to see how amazing all of the restaurants, shops, theaters, museums, galleries, breweries, and residents have been about continuing to serve Salisbury in the midst of a pandemic became a priority for HSF," Stewart said.
The scavenger hunt is available on the Historic Salisbury Foundation Facebook page, on their website at historicsalisbury.org/images/COVIDScavengerHunt_Part1.pdf or at Historic Salisbury Foundation office. People can also email director@historicsalisbury.org for a copy, or with questions.
Once completing the Historic Salisbury Hunt, participants can send a picture of completed No. 10 and of the finished sheet to director@historicsalisbury.org or post the picture to Facebook or Instagram and tag Historic Salisbury Foundation.
Those that complete the hunt will get to choose a free book, which can be picked up from the foundation's office at 10 a.m. to 1 p.m. on Wednesday for curbside pick up or sent to an address.
Participants will also be added to a drawing for free OctoberTour tickets.
Stewart said people are excited about the hunt. Other preservation organizations have told Stewart they were going to borrow the idea.